Where Is My Logo?
Need to order something with your logo printed on it but don't have a clue where to find it, let alone in the right format?  You are not alone!
We have thousands of clients who sometimes have a hard time locating their company logo.  There are several places to check and several ways to get what you need.
1. Check your computer.  You may have a letterhead, PDF document or something else that contains your logo.  If it's not the right format, you can still send it off to your supplier for a quote on whatever item you need and continue to look for the file that is needed for production.  Also, sometimes a PDF file, depending on the document will contain your logo in the exact format you need.  Zoom in to a small portion of the logo and see if it is choppy or fuzzy.  If it is "tack sharp" then your logo is probably a "Vectorized" version; meaning it can be manipulated and used for printing.
2. Ask your marketing department, ad agency, sign company, printer, graphic designer, web developer or anyone that you have worked with in the past for graphics.  Be sure to ask for the logo in the format that is needed for your current print job.  When in doubt, get several versions in different formats and let your supplier choose the best one.
3. Go online and do a Google search.  If you work for a large company or organization then you may find your logo online.  Enter "Company Name + Logo + Vector."   Brands Of The World is also a great place to look.  They have vector copies of many company logos available for download.  If you just need to show someone what your logo looks like, go to your company website and copy the logo from there (right click on the image and choose save).
4. If all of the above fails and you can't obtain your logo in the right format, then have it redrawn.  Depending on the complexity, it doesn't have to cost that much.  Our company has redrawn literally thousands of logos or created new ones from scratch.  Once you have your logo in the right format, save it in multiple places for future uses.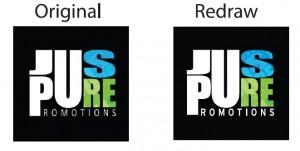 Recent Logo Redraw