The Versatile Director's Chair
The Director's chair has been around for ages.  The simple side by side fold and scissor hardware design with a simple canvas seat and back has origins as far back as the 15th century!  Case in point, these guys from Civil War times taking a breather: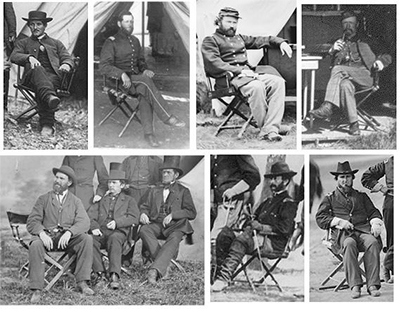 The modern American style version was designed by the Gold Medal American Company in 1892 and won best excellence in casual furniture design at the 1893 World's Fair Columbian Exposition in Chicago (See Wikipedia).  Since then, these chairs and variations of them have remained popular all over the world because of their inherent ease of use, versatility, and clean, simplistic aesthetics.  Camelback Displays offers the entire Gold Medal directors chair line, which remains the most popular of its kind due to quality of workmanship and more.
The classic Directors Chair is constructed of wood and canvas, however the styles have respectively branched out into other materials such as aluminum, variant woods, hard plastics and so on.  Varying heights and stylized legs as well as different colors and wood finishes make this piece more dynamic than ever.  While canvas is traditionally durable and versatile, many chairs come with other seats and backs including sturdy outdoor nylons, chic leather, and just about any fabric you can think of that could support the weight of a person.  Canvas seats and backs can also be customized with names, logos and images via embroidery, silkscreening, and heat transfer processing depending on a persons needs.
All of these options make this simple furniture piece a perfect fit for just about anywhere whether it be trade shows, expos, the movie set (of course), make up counters, dining rooms, professional and home bars, children's playrooms or study areas, beach houses, tailgating parties, sports events, and more.  We thought it might be fun to give you some visual examples of the versatility of directors chairs so we played around in pinterest and created a Directors Chair Ideas and Lookbook for your viewing pleasure.
To make your purchase simple feel free to explore or Director Chairs Buyers Guide as well to find the perfect match for your seating needs.