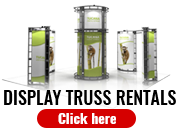 20X20 EZ6 MODULAR DISPLAY TRUSS KITS
20X20 EZ6 MODULAR TRUSS DISPLAY KITS are unique and effective truss solution for the customer that wants to change their design over time without the fuss of re-configuring or purchasing various junctions that come with stage truss. We offer a full range of EZ6 trade show accessories are available to add to your truss design.
We also provide a wide selection of high-impact quality and affordable EZ6 Display Truss Kits rental options to maximize your budget.