EZ6 Modular Truss is a unique and effective truss solution for the customer that wants to change their design over time without the fuss of reconfiguring or purchasing various junctions that come with stage truss. Made of the same hollow steel as our classic truss, EZ6 offers strength and durability with a 5.75" width and 3/4" square hollow steel tubing. Vertical pieces attach to horizontal pieces with an easy to use and fast bracket system, cutting down installation time substantially. No tools are required with EZ6!
EZ6 is not only versatile and easy to use, but aesthetically pleasing with a spectrum of powder coat color options available, most at no additional charge. We offer a wide selection of pre-designed 10×10, 10×20, and 20×20 EZ6 modular truss systems for you to choose from that can also be modified or reconfigured. We can design something completely new and different for your exhibit needs as well!
A full range of EZ6 trade show accessories are available to add to your truss design. We can mount any size monitor with our LCD or plasma mounts along the vertical or horizontal spans of truss. We also offer lighting, slatwall, merchandising accessories, a range of shelving, workstation counters, fabric panels, full color graphic panels to create walls, headers, and much more! Our full color, fabric, graphic panels clip easily to the top and bottom of the EZ6 truss, creating a smooth and attractive graphic wall. Inkjet laminate panels can attach to hardware to create graphic headers. Graphics with magnet backing can attach easily along the entire truss system wherever there is exposed square truss tubing for adding branding and advertising.
On top of all of these benefits, EZ6 pieces fit into shipping cases and can be easily transported. Great for trade show exhibits, stage truss applications, lighting, concerts, showrooms, and so much more, it is no surprise why EZ6 Truss is one of our most popular products!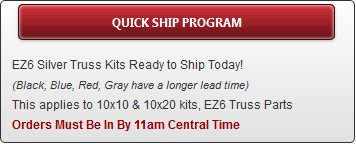 Packs into roto-molded cases for easy shipping
Sets up in minutes without tools
Can be easily reconfigured
Unlimited merchandising possibilities
Magnetic graphics adhere instantly
5.75″ Square Modular Truss, constructed of steel 3/4″ square tube. All pieces are powder coated. Custom items are available.
EZ-6 Standard Lengths: 11.5″, 23″, 34.5″, 46″
EZ-6 Brackets for connecting horizontal to vertical sections
EZ-6 Curves: 90, 60, 45, 30
EZ-6 Shelves: Clamp on shelves for literature or laptops
EZ-6 Slat Wall: Lightweight Aluminum, Double sided, Accepts all standard merchandising, Accessories available, Comes in 4′, 3′ and 2′ widths.
EZ-6 Counters: Inline counters install between columns and may be configured alone or against a wall. Available with slat wall tops between columns.
EZ-6 Media Accessories: Projector Mounts, Plasma Mounts, LCD Mounts, Swiveling Keyboard Shelves, Laptop Shelves
EZ-6 Cases: Cases with wheels, tubs or crates are available
Lighting: Various clamp on lights are available.
Conference Tables & Chairs: Pack Stuff Furniture can be powder coated the same color as the truss!
EZ-6 Truss Systems are available in a wide array of colors to meet any needs. Please Note: colors shown on monitor may vary from finished product.
Below, you will find some generic assembly instructions on how to assemble various accessories and how to assemble EZ-6 parts together. We're here to assist you with any situation that you require assistance with.
Attaching fabric panels or dye-sub fabric graphics to EZ-6 Truss is as easy as using our banner clips. Simply attach banner clips to the truss and attach the fabric/graphic to the clips! Fabric graphics & fabric panels can be attached to the front or back of the truss depending on your design. A sintra edge is sewn into the fabric for placement onto the clips. This allows us to smoothly follow edges and mount graphics tight enough for a taut look.