Custom truss can be fabricated for practically any shape. Custom truss can be used to make standard shapes such as perimeters, arches, rings, boxes, etc…but non standard shapes can also be fabricated.  Over the years, we have designed all kinds of different shapes for numerous solutions ranging from custom signage to custom exhibits and more.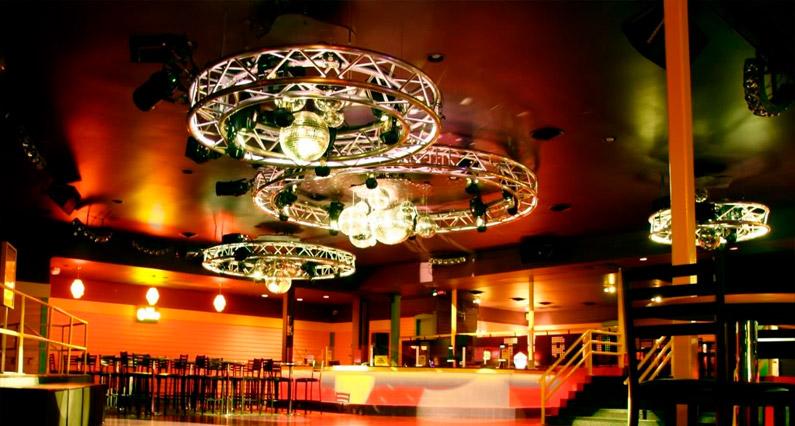 It is made of hollow tube steel or tube aluminum in the construction of the tube cords and wire webbing.  This helps to keep the truss lightweight for easier shipping but also to make it very strong and weight bearing.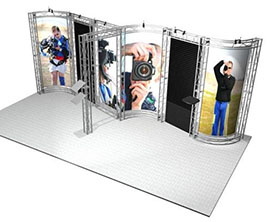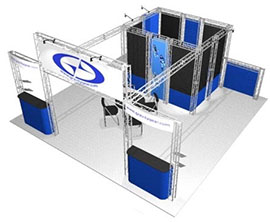 Tube cords can range in widths from ½" to 2" in size. This is for aesthetics as well as load bearing options.  Obviously, 2" tube cords can carry more distributed weight than ½" cords.  You will find the heavier duty truss used in concerts uses 2" tubes and many trade show displays use ¾" or 1" tube cords.  Some designs call for a "beefier" look, while others require subtle sleek lines.  The smaller size truss is also easier to ship.
Cross sections are available in flat (ladder), triangular (standard) or square (box).
This helps truss to offer a variety of design options, structure, utility and aesthetics.  Add to the list the various styles of all three and you have unlimited design options.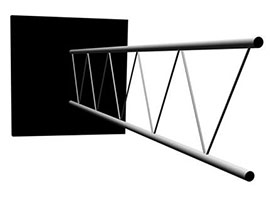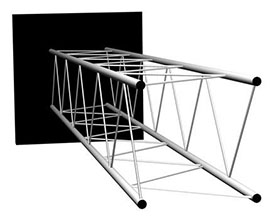 Custom pieces are available.  They include custom radius sections, custom angles, custom junctions, extra legs or extensions, custom colors (for some products), custom accessories and custom attachments.

Custom truss design also means making configurations to order based on the customer's needs.  Any number of ideas can be incorporated in a custom design using all the tools available to achieve a creative vision.  A client may need a design to hold cameras at all angles to test the swing of a professional golfer or to test golf clubs (True story).  Another client may need to replicate the shape of a house for a home trade show. Yet another may need a truss frame to hold some existing banners that are an odd size.
Standard accessories such as shelving, monitor mounts and lighting can be used with custom truss.  Custom accessories can also be fabricated as needed and some standard accessories can be customized to suit a particular need.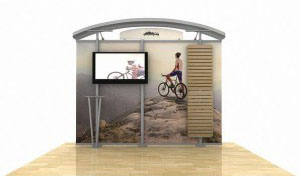 Truss Monitor Mounts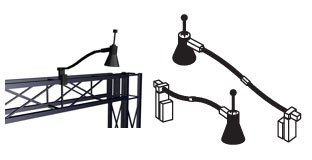 Lights For Truss (Clamp on style)
Custom truss is a natural tool for displaying large graphics because of the strength of truss structures and the ease of attaching graphics.  Huge mural graphics can stretch into the air for high impact.  The modern look of truss also compliments graphics without overpowering the presentation.  Free standing arches can be used along with graphics to create walls and divide a space.


Graphics are easily displayed using truss.
The advantage of using steel truss with graphics is that magnets can be used to affix an image.  Square tube truss is best for this as round tubes do not allow a completely flat surface for the magnet to stick properly.  But there are a number of ways to attach graphics that include magnets, Hook & Loop, graphic clips, grommets and other methods.
Some custom truss collapses down for easy packing and shipping.  This truss is designed to fold down and fit into exhibit cases.  Other truss products break down into component sizes (4' straight sections for example) to be packed inside crates.
Custom truss is used for hanging lighting (lighting truss), trade show displays & exhibits, concerts, retail store displays & fixtures, hanging signage, displaying banners, displaying products, in studio sets, office & home décor and much more.
Weight load will vary between products depending on the size of the tube cords and wire webbing.  It is very important to know how much weight will be hanging from the truss, whether it is a slab of marble or a simple banner.  In some cases, the weight of whatever is being displayed will determine which truss product is appropriate.
Fractional lengths such as 6'4" or 2'2 ½" are available with some truss products.  This insures that designs can be fabricated into reality.  In complex designs with a lot of components going in different directions, it is sometimes necessary to use fractional sizes to make the design work.
Most truss connections on all parts are the same.  Parts are usually connected with a single tool.  This simplifies set up and dismantlement and avoids the need to worry about several tools.
Truss: See all of our truss products for use in special events and trade shows.
Truss Podiums Tables: We offer several types of truss podiums, counters and tables.
Truss Monitor Stands: Free standing LCD stands made using our truss products.