Based on the triangle shape…
Truss has been used for centuries to help construct things like wooden bridges and buildings.  Early truss was made out of wood and first used by the ancient Greeks.  During the Renaissance, an architect named Andrea Palladio wrote a book called "Quattro Libri dell'Architettura."  In it Palladio gave instructions on how to build truss for bridges.  Due to its unique triangular design, truss adds a strong lightweight component to construction.  It offers tensile and compressive strength, which gives it flexibility to solve various construction challenges.
Truss in Building…
Nowadays, truss is still used in construction.  Vierendeel truss, which is a special type of truss design, is actually used today in skyscrapers across the country. Truss towers (pylons) are used extensively to help carry electricity, radio & cell signals across the country.  Crawl up into the attic of your house and you will still see standard trusses being used to support the roof.  Other types of construction truss include Planar, Pratt Truss, Bow String Roof Truss, King Post Trusses, Lenticular Truss and Town's Lattice Truss.
More Information on Construction Truss.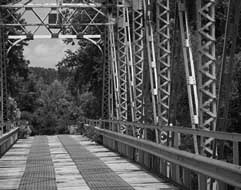 But truss is also used for displays & architectural accents, on the stage, for trade show displays and even to hold lights in night clubs.  There is even
truss tables and podiums.  Obviously, display truss differs from construction truss in strength and look, but it utilizes the same basic idea.  It comes in ladder (flat), triangular and square (box) cross sections.  Truss can be the backbone of a trade show exhibit, holding monitors, presenting counters, shelving and graphics to a high degree of visual impact.  Even in this form, metal display truss is very strong and depending on the size of the tube cords and wire webbing, can hold a great deal of weight.  At concerts, heavy duty aluminum truss is used for light towers and scaffolding.  Tube cords can be as large as 2" with wire webbing as thick as ½".  Strength isn't always what is needed, but because of that, very large graphics can be easily displayed.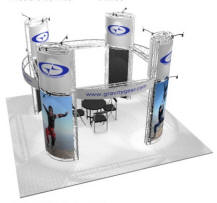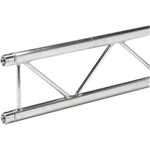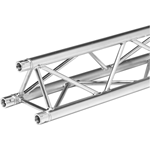 Truss Products
Truss: Visit this page to see all of our truss products.
Truss Tables: We offer several types of truss counters, tables.
Truss Monitor Stands: Free standing LCD stands made using our truss products.