Designing, Building, and Preparing for your next trade show or big event can be exhausting and overwhelming. CamelBack Displays is here to make sure that you never have to experience that again! Developing your next big display should be fun, organized, and rewarding! We can help you accomplish just that by building the perfect exhibit or promotional display while still allowing you to enjoy the process. Professionals and specialists will help you through every step and ensure your project comes out exactly how you envision it. Even if you can't quite envision it, our team of advanced graphic designers, exhibit specialists, and marketing professionals can help you develop the perfect experience to showcase your brand, products, and personality the way they should be. We will do everything possible to make your journey an experience to remember!
1. Research, select, and purchase your products online or by phone.
2. Upload your artwork online, or request graphic design services.
3. We will proof to ensure it is perfect! Then build your exhibit.
4. Our specialists will work with you to ensure the absolute lowest shipping rate & time frame.
5. You receive your exhibit and blow everyone away! "- Steal the show!"
We strive to offer our customers online ordering capabilities that simply are not available anywhere else. When ordering online our products are very easy to customize. You will also have the opportunity to upload and attach artwork related to your products after checkout. Next we offer the opportunity to purchase our proofing process at checkout. when you select our proofing service we guarantee that we will look over your artwork and ensure it will print perfectly, and if not we will work with you to correct it. We also offer graphic design services with every order. If you select this option a specialist will contact you shortly to begin your project.
Lastly every online order is assigned to a product specialist that will contact you and ensure that your order is completed properly. Whether it means helping you upload graphics, or working on shipping details, your representative will help you through it. The specialist will contact you within one business day after your order is placed.

Trade Show exhibits and promotional displays can get pretty tricky. We understand that sometimes you will simply need to speak with us to find the perfect product, and work through any questions you might have regarding your project. We are always available via the online chat system but sometimes speaking over the phone is the best way to interact and work through the process.
Our specialists are awaiting your call to help you with selecting the right products, consulting your graphics design, ensuring proper shipping specifications, and of course to answer any other questions you might have. Our team consists trained professionals and experts that are extremely knowledgeable about our products and process. They will be able to answer any questions you might have and be able to walk you through the process in no time.
Call us today at 1-877-268-7469 to start building the perfect exhibit! We will help you through the entire process in no time at all!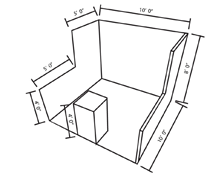 The first stage will be determining the amount of space you have to build an exhibit or promotional space. It is always wise to think ahead as well. We help some of our clients to design exhibits that can be broken apart and used in smaller spaces as well.
After determining your space, you can begin shopping for the products that will best suit your company and your needs. Browsing our website is a wonderful place to start and you can even order online. Giving us a call at 1-877-268-7469 is another great place to start. Our specialists can help you find products, and answer any other questions you might have.
Pin pointing the right budget for your project is not only crucial for your company, but for us as well. It will allow you to browse our products and have the right idea for what kind of product combinations you can use to achieve the result you are looking for. It can also help in the decision making process when it comes down to choosing between a hybrid exhibit package, or a serpentine back wall with custom banner stands and counter space, or any other of the thousands of product combinations.
Furthermore if you are actively working with us to build your next exhibit a precise budget can help our team to deliver the absolute best product  combinations for your budget. We guarantee that our team will present you with the best options possible when it comes to outfitting your exhibit space.
Now that you have your budget in mind it's time to get to the fun part!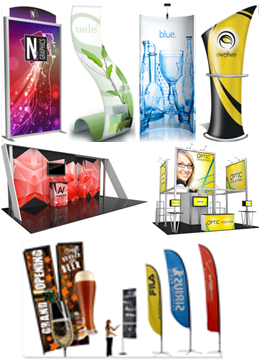 When you have selected the perfect products. It is time to start the fun stuff!
Give us a call at 1-877-268-7469 to place your order, or customize your preferred products online, add them to your cart and checkout! A customer service representative will be assigned to you immediately and you will receive a phone call within 1 business day to ensure that everything regarding your order is in line and ready to go.
During the checkout process you will also have the opportunity to purchase other services. Such as our proofing service which allows us to guarantee your artwork will print perfectly on your display. Graphic technicians will review your art files to ensure that everything is aligned and set up properly whilst also checking for typo's or any other errors.
Our most popular service is Graphic Design, at checkout you will be given the opportunity to request design services. When a specialists contacts you regarding your order you will have the opportunity to express what you are looking for and we will maintain an open dialogue throughout the design process. Our professional designers will then ensure that your exhibit comes out looking like a million bucks! They will work with you to design the exhibit you truly have envisioned.
If you already have your graphics covered, no worries! You will be able to upload your artwork after checkout. If you need time to prepare your graphics, no problem! Simply log back into your account when you are ready and take a look at your orders section. You can attach your artwork files to your order and we will get straight to work!

The graphics used for trade show exhibits and promotional pieces are one of the most important aspects. For that reason it is extremely important that they are stunning, prepared for printing correctly, and encompass the information you need to display. The designs need to be thought out and executed well to achieve the effect you are looking for. We highly recommend reading through some of the articles, recommendations, and tips you will find on the GRAPHIC RESOURCES page. Here you will find information regarding how to set up your artwork files in relation to product templates, file types accepted for print, information about printing methods, and tons of tips on designing your next display… along with much more!
If you are looking for information on how to set up your files try the GRAPHIC SET UP GUIDE. If any of your question's remain unanswered after browsing the graphic resources page be sure to give us a call, or chat with us online. We will be sure to supply any information you may need related to designing your next project.

CamelBack would love to help you design the perfect exhibit or promotional display. Our team of world class graphic designers, marketing specialists, and advertising professionals are here to assist you in developing a display that is stunningly attractive, delivers the message you intend it to, and represents your brand the way it should be. Get in touch with us to begin a design consultation and receive a quote for your next project. A specialists will guide you through the entire graphic design process ensuring that every important factor is met and your next exhibit is delivered looking better than you could have ever imagined!
If you are ready to start designing your next exhibit or event we are too! Give us a call at 1-877-268-7469 or chat with us online through our chat system found at the bottom right of your browser window. You can also read a bit more about our graphic design service HERE.
Also be sure to visit the DESIGN SERVICES page for a short introduction to the services we provide. You will also find more information about graphic design styles, popular fonts, and other handy graphic related resources.

You will be prompted to upload files related to your order after checkout. If you do not have your artwork files ready, have no worries. You can simply log back into your www.camelbackdisplays.com account and view your recent orders. From here you will be able to upload and attach your artwork files to the related order. If your artwork file is too large to be uploaded through our website you will be given instructions to use a file transferring service (www.wetransfer.com) to complete the upload.
Customers who have placed their order by phone or that have not registered a www.camelbackdisplays.com account can still upload artwork online by clicking the "Upload Artwork" button found at the top left hand side of our website. Simply follow the instructions to provide your order number, company name, and upload your files.
If you are having any troubles uploading your artwork, or design files please contact us at 1-877-268-7469 we will help you get them uploaded in no time.
We also accept artwork files via mail using a CD, or thumb-drive. Simply mail the CD or drive to our showroom address: 20020 Hickory Twig Way, Spring TX 77388. Please include your company name, phone number, and order number.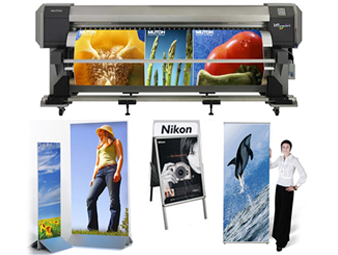 After graphics have been created or supplied our team of graphic technicians will carefully comb through the artwork files to ensure that everything is properly aligned within the template. They will double check your files for misspellings, blurry images, or any other kind of defects that may be present. Any issues will be brought to your attention and you will have the opportunity to fix them, or allow us to make the changes for a small fee. When the artwork is absolutely perfect you will be e-mailed a digital proof showing what your product will look like after printing. When you approve the proof the design will be printed immediately and your exhibit, display, or product will be constructed as fast as possible. If time permits and it is available for the product ordered, we always advise ordering a "hard copy proof" which allows you to check colors.
We pride ourselves on only offering the highest quality products constructed with the best materials. They are engineered by professionals to last long, look great, and function as advertised. Our products are put together with the utmost care, and precision to ensure our customers love the final result. Whether it be materials or printing methods you can be sure you will be receiving the very best in the industry! You can learn more about our state of the art printing methods HERE.

During or throughout your purchase your account representative will have worked with you to ensure your order is printed, built, and delivered to where you need it within the time frame you requested. Our team works hard to get our customers what they need when they need it. We understand that many orders will need to be completed and shipped in a short time period. For that reason we offer to ship your order straight to the venue of your event, or to any location of your choosing.
Coordinating with your sales representative will allow you to pinpoint your delivery time, track your order, and ensure it arrives on time. We work with and maintain relationships with the biggest and best shipping companies in the world. This allows us to offer our customers the most reliable shipping and the lowest rates possible. Whether it is a small banner stand, or a behemoth Double Decker exhibit, we make sure it shows up at the right place, the right time, and at the right price!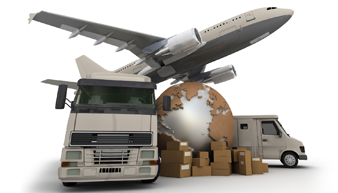 Last but not least, follow the simple set-up instructions included with your products and start the show! If you have any questions while setting up, or taking down your displays be sure to give us a call, we are always here for you and love to hear back from our customers! We are confident you will absolutely love the finished product, and that your company will be the star of your next big trade show or event. If possible send us photos, or let us know how everything turned out. There is nothing we like more than hearing about our clients successful events.