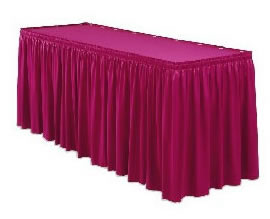 Table skirts (table drapes) cover the perimeter of a table.  This adds fullness, color and a finished look to a table.  An ugly table can be covered up and look presentable.  Skirting can also compliment other design elements in your space by using color and graphics to accent or to reinforce.
Pleat Styles


Skirting comes in several pleat styles including shirred (most popular), boxed, and accordion.  Pleated skirts have reinforced headers that include lock stitching and a sturdy backing to maintain shape and durability.
Attaching to a table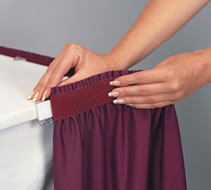 Attachment is easy with our hook and loop attachment clips.
We offer a wide assortment of clips to fit practically any table.  Please let us know
what type of table you have when ordering so that we can make sure we send you the correct size clips.  Otherwise, we send clips that we think fit on most tables.  Clips are made of durable injection molded polycarbonate plastic.
Clips



If clips don't work for your particular table, each skirt has hook and loop sewn into the header (also used to attach it to the clips) in a matching color.  Hook and loop can be attached to the table for mounting the skirt if needed.
Also, skirts are made with a reinforced backing to easily pin the skirt to table toppers or tablecloths.
What about the table top?

Table skirting covers the sides of a table, so we offer fabric table toppers to cover the top.  A topper is a large piece of fabric with serged edges.  You can also leave the top open if you need a non-fabric surface, depending on your needs.  Toppers do not have to match the color of the skirting.  You can choose a complimentary color that can add another design touch to your presentation.
Also, toppers go on the table first, followed by the clips and skirt.
Sizing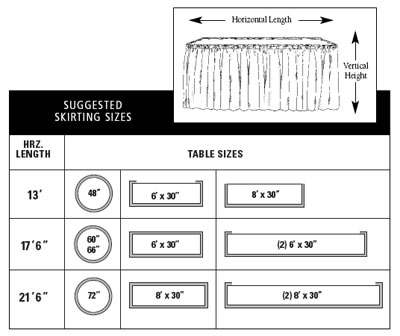 Table skirts are made to fit your needs.  Let us know what size table you are using and we will make them to fit it.  It doesn't even have to be a table, we can make skirting to fit, AV carts, garbage cans, crates or anything that needs a skirt to cover it.  Of course, we have some standard sizes, but these are a starting point and cover most table sizes that are commonly used.
We make table skirts to hang one inch (1") from the floor, but we can adjust this anyway you need us too.  There are no limitations to the length of the skirting, but to make it easier to ship, handle and wash, we cut our skirts every 25ft.
Generally, for standard sizes, we have charts showing how the various lengths of skirting will fit around standard tables.   For example, a 17'6" table skirt will fit around a 60" round table and a 6ft x 30" rectangular table.  It will also fit an 8ft x 30" table but have part of the back open.
Fabric Colors
We primarily use Twill fabric for our skirts, which allows us to offer a high quality product that can accept printing.  There are over 35 colors to choose from and each order ships with proof the fabric used is fire retardant (certificate from a testing lab).  We also offer a budget line of skirts using Banjo Cloth.  This is a budget fabric that does not accept printing and is of a lower weight.
A fitted set offers the convenience of having the skirting and the table topper sewn together without the need for attachment hook and loop clips.  Fitted sets are made for a particular table size, so be ready with table measurements when you call.

Printing Options
We offer full color printing, repeat printing, Maxi Print silk screening and vinyl transfer.  See products for more details.