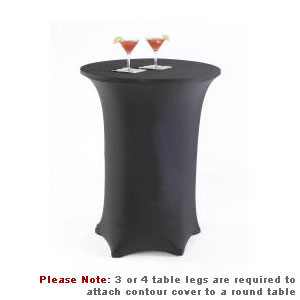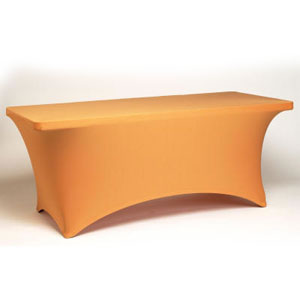 If you are tired of the same traditional skirting or table covers consider Contour Covers
Traditional can be drab and you want edge!  Contour covers offer a clean and contemporary design to meet and exceed your table cover needs.  Unlike standard table covers, contour covers are designed to conform to any table with a flexible, expandable polyester/spandex blend in a range of dynamic colors.  Punctuate a sleek presentation by adding a logo to your contour cover.  Compared to other table covers and even our table skirts, Contours are an exciting and modern way to add impact to your presentation.
Contour Table Covers Prices & Product Information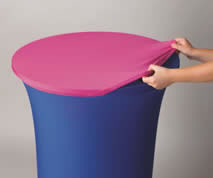 How they work
Contour covers fit over any rectangular, round, or custom sized table.  All you need are legs!  Each contour cover comes with small, reinforced sleeves at the ends that attach to the bottom of each table leg making set-up minimal and easy.  This design eliminates the muss and fuss of additional parts like hooks, loops, and pins.  It is also a flame retardant material, and machine washable/dryable for easy care.
Printing your Logo on a Contour Cover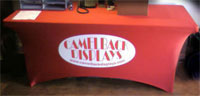 You can add any logo to your contour cover with a printing process called TIP Applique.  This heat transfer process allows you to print simple to complex full color images, text, logos and more.  An image is printed, cut out, and transferred with heat to the contour cover fabric to create a flawless, color-rich image.  Because it is a CMYK process you can print unlimited colors within an image unlike silk screening which disables the ability to print photographically or with gradients.  The only disadvantage is due to the printing process as it is not an exact PMS color match.  We now offer a full print (full bleed) version in our Ultra Fit Contour Product.
Use contour table covers with our line of table top displays