Who reigns Supreme? Tension Fabric Displays vs. Pop Up Displays
Tension fabric displays are taking over the trade show product market and with good reason.  They are visually stunning, dynamic in design, lightweight, long lasting, versatile and so quick to set up and user friendly.  They come in all shapes, sizes, and styles for just about any exhibit application whether it be a small 10×10 first timer booth or a large scale multi-level exhibit booth experience.  It's amazing that no one thought of this before!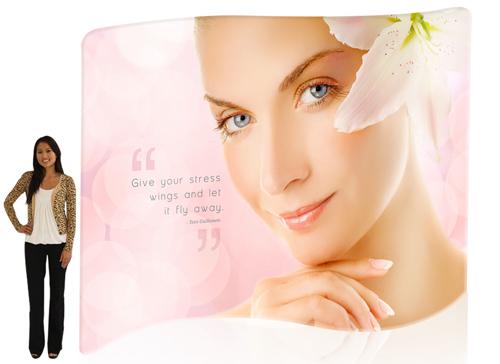 EZ Tube: a basic Tension Fabric Display
What is a tension fabric display?
A tension fabric display is a combination of hardware and full color printed, stretchy fabric that is typically sewn in a pillow case style with a zipper finish.  Depending on the type of display, the hardware is usually comprised of lightweight aluminum extrusions that are formed to create an overall shape such as a curved display or straight backwall frame.  The aluminum extrusions are usually fabricated in smaller sections so that they can be easily connected via button lock system by one person to create a larger system.  It can easily be broken down to pack into a shipping case that is not oversized and can be easily transported.  Some display frames are more similar to a traditional pop up in that it accordians outward and locks into place but displays with more dynamic shapes typically utilize the aluminum extrusions.  Full color dye sublimated fabric graphics are then stretched over the frame much like a pillowcase on a pillow and zipped up or closed creating a flawless, taut graphic image at any scale.  Other tension fabric displays that take the traditional pop up approach might have tabs and hook & loop that will connect to the accordion style frame.  The stretch fabric creates tension and pulls any loose areas taut.  It is typically a poly-blend with an elasticized, spandex quality to it that maintains picture quality, detailed, vibrant color images.
Freestanding units have just started taking off in the past few years but the technology has been around for awhile and was mostly utilized for hanging 3-D display signs.  With larger printers for dye sublimation and better developed designs the possibilities are endless.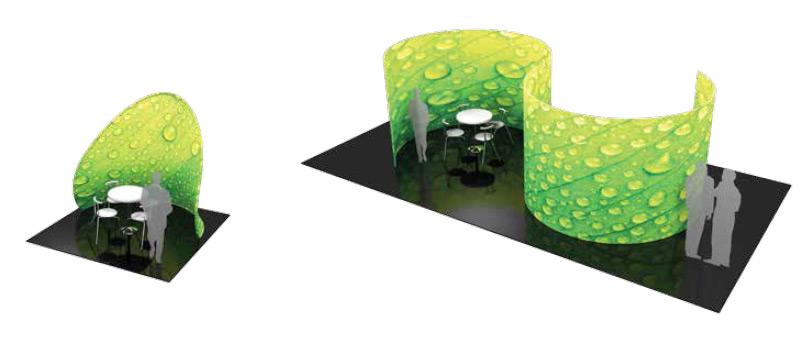 The Flip Display reinvents the backwall
It just looks cool.
The fundamental design of tension fabric systems makes for an incredibly user-friendly set up without compromising the wow-factor of an aesthetically pleasing, streamlined display at pretty much any size and shape.  No more are the frustrating seams of graphic panels that an exhibitor may painstakingly fuss over lining up perfectly.  Depending on the type of display, exposed hardware is also minimally exposed maximizing the visual area of the unit with visual branding and imagery.  Furthermore, the aluminum hardware extrusions are bent during the fabrication process to create an overall shape so really, the sky is the limit.  You are no longer limited to the classic curve or straight backwall although classic for a reason, can get a little.. typical.  With our aluminum extrusion fabrication you can go in so many directions.  Our product line features entire rooms, large conical towers, tunnels, and abstract shapes such as the Formulate Chip Wall.  Concave, Convex, S-shaped, you name it!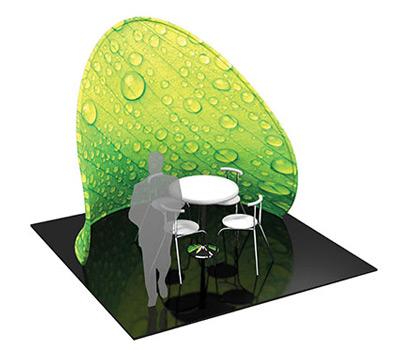 Formulate Chip Wall Tension Fabric System
Other Benefits:
No more will you have to pack all the gadgets and tool kits needed to assemble a system.  The majority of these displays are relatively tool-less.  Aluminum extrusions connect to each other with a snap button frame and graphics easily slide over the frames and zip closed.  That's pretty much it!  Say goodbye to hours of set-up and get ready to squeeze in some extra time for a latte pre and post show for those potential clients.

Integrate media into your display
Pop Up Comparison:
These tension fabric systems are fundamentally similar to pop up displays in all of the best ways.  Pop up displays came onto the trade show scene many, many moons ago and have been an exhibitor staple ever since.  Why?  They are economical, easy to assemble and break down, travel easily, last a long time (most frames carry a lifetime warranty), and offer a large mural backwall graphic to really showcase your branding and intent.  Tension fabric displays are similar in these ways.  Although the price point is a bit higher, you are still getting more bang for your buck.  Our tension fabric frames such as the Formulate systems are manufactured in the USA and carry a lifetime frame warranty!  That means anytime it breaks after purchase you can give us a call and we will swap out the part.  Exclusions apply, of course.  Please do not test the strength of the extrusion by driving over it with your car and then call us.  Like the pop up, the tension system as mentioned above has zero fuss assembly and transports easily.
These two types of systems vary in many ways as well.  Most tension fabric systems have simple aluminum extrusions with a button key connection.  There are no channel bars or hubs to deal with, making things run smoothly and faster than ever before.  As far as graphics, there is typically 1 large tension fabric graphic whereas pop up displays typically feature several lambda, duraprint, or inkjet panels that you have to painstakingly line up to make sure the image and text is correct.  Panels also take up more space.  They are typically packed rolled whereas fabric can be folded and take up a lot less room in your shipping case.  Another advantage is durability.  Unlike rollable graphics, fabric cannot be dented.  There is no need for magnet replacement.  The fabric is so sturdy the likelihood of it tearing is minimal not to mention, if you stain it, wash it!  That in itself makes fabric displays a worthy opponent to the pop up!