How Do Pop Up Displays Work?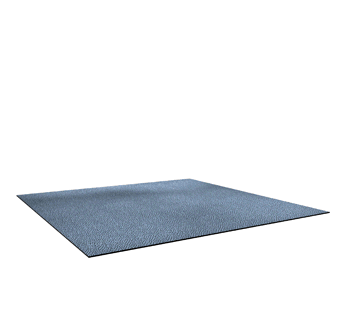 Pop-up trade show displays start with a collapsible extruded (or drawn) aluminum frame which opens to reveal the basic structure of a portable wall.  The frame simply pops up by expanding to open.  Some models offer a self locking frame; others use locking arms that hold it together.

After the frame is opened, metal or plastic struts are attached vertically onto the hubs of the frame. This supplies more support to the frame and a place to attach the "skin" of the pop up display.  The struts, otherwise known as "channel bars" can be ordered as single units or connected segments of three (hinged channel bars). On the flat surface of the channel bar's face are flat magnets, which are used to make the "skin" stick to the frame.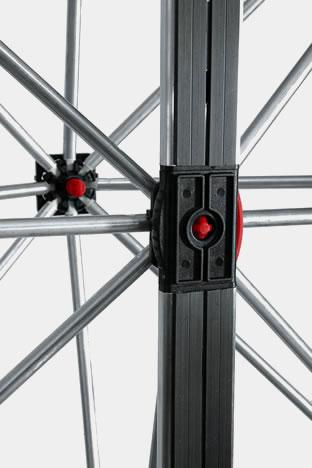 The "skin" of pop up displays is composed of flexible, rollable panels that attach to the front and sides of the display.  The panels can be either graphical or fabric.  Both versions attach to the frame the same way.  Fabric panels are "graphic ready", meaning they will accept detachable graphics with hook side.  This allows the end user to easily change out graphics between presentations.  Graphic panels (AKA "Mural Panels") can be used to create a large graphic image in full color.  The back edges of the panels, like the channel bars have flat magnets that help each panel snap into place.  Once attached, the combined panels offer the look of a seamless graphic or fabric wall.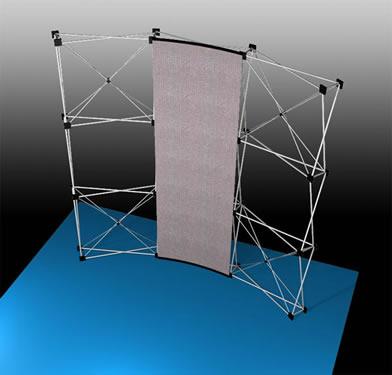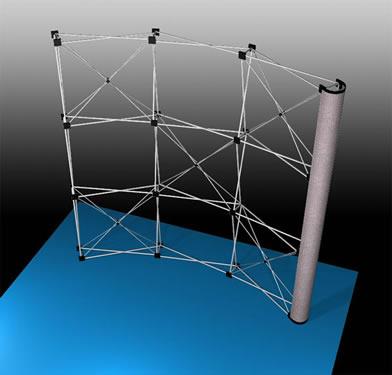 Each pop up model has its own type of connection for spot lights.  Some attach to the tops of channel bars; others use special connectors.  Please note that some venues only allow wattage up to a certain level.  For example, the Las Vegas convention center may not allow the use of 200W halogen lights on displays.  Pop up spot lights can be adjusted for dramatic or wash lighting.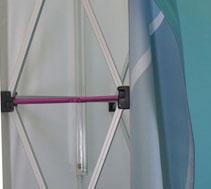 Cases that pop ups ship in usually have wheels for easy transport and are small enough to ship via common carrier (UPS & FedEx).  All basic parts of the display fit inside the case, making the pop up one of the most portable exhibits available.  These include the frame, channel bars, panels, podium conversion kit and lights.  If extra accessories and panels are ordered, you should double check to make sure everything will fit in one case.  If not, another case will be needed.
Trade Show Pop ups offer case-to-podium conversion kits as an option or part of a package.  Usually, they consist of a matching fabric wrap that hook and loop around the case along with a plastic or wood laminate top.  Recently, spandex type material has been used to offer a pillow-case design for some podium kits.  This podium kit just slips over the case.
There are several of advantages in using case-to-podium kits.  The podium gives exhibitors a place to meet & greet trade show attendees and hand out literature.  It also has the advantage of hiding the case in plain site, avoiding the need to either pay to store it or hide it behind the display.  Another advantage is that the podium kit can easily display graphics.  Place a graphic podium near the front of your exhibit booth and you have an easy sign post leading people into your display. Pop up displays with graphics.
Case to Podium Conversion Kit (Graphic)

Gullwing Pop UP with Fabric Podium Kits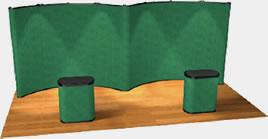 Basic pop up accessories include detachable shelving, LCD monitor holders, graphic wrap headers, back-lit headers, bubble panels, detachable inkjet graphics for fabric pop ups, spot lights and of course, case to podium kits.
Detachable Shelves for Products (Flat) and Brochures (Angled)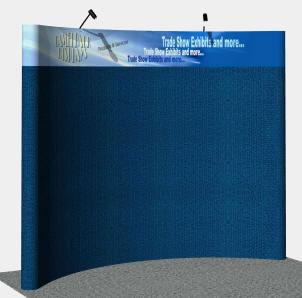 Pop Up with Monitor Holder (Holds LCD Monitors Only)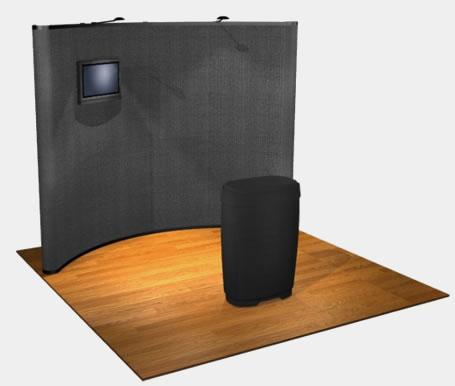 Other accessories you may want to order for your booth include trade show flooring, portable brochure stands, banner stands and directors chairs.
Of course, the primary use of a pop up display is as an exhibit at a trade show.  They are also used for presentations, meetings, retail displays, mall displays, fund raisers, speeches, press conferences, fashion runways and wherever a large portable graphic mural wall is needed.
Articles:

Pop Up Displays
---