Budget Table Top Pop-up Kits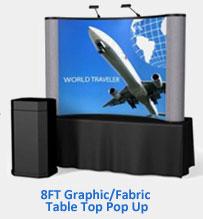 The popular pop-up display is not limited to the floor!
---
Camelback Displays pop up product lines packages features pop-ups fit for every size! Our table top pop up display kits offer full color graphic mural panels, Graphic/Fabric combination packages, or hook & loop receptive fabric panels (available in a spectrum of colors), and are available as small as 2′, and as large as 8'; perfect for your table!
Like our floor models, these table top kits include easy to use frames, full color printed graphics, graphic/fabric combination panels, OR non-printed fabric panels. See below for all options available.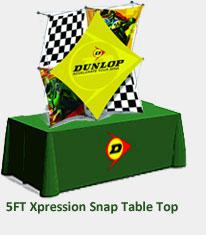 TABLE TOP

POP UP DISPLAYS – WITH

FULL COLOR PRINTED GRAPHICS
OTHER

PRODUCTS THAT COMPLIMENT YOUR TABLE TOP DISPLAY
If you order a table cover, you should also consider getting a matching set of draperies for the pipe and drape at your booth. This could tie in all the colors in your table top display, table cover and the back ground of the exhibit booth.  Banner stands at the head of your booth can further serve to draw in trade show attendees. We have a great line of retractable and green banner stands.
The popular pop-up display is not limited to the floor!
Camelback Displays offers all kinds of displays designed for table tops, including table top pop up kits.  Table top displays are scaled down versions of many of our displays such as hybrid displays, pop up displays, panel systems and banner stands, but also include specialized displays designed for presentations on the go.  Most of our table top exhibits will fit standard sized tables.  By their very nature, table top displays are very portable and set up in a short amount of time.  You can add graphics and lights along with a custom printed table cover to finish off your presentation.  Table top displays are for the budget conscious, but they go beyond just being affordable.  They function to allow visitors to your booth or table to get a little closer and start a conversation.  They work in tight spaces, point of purchase situations and alongside product demos.  We offer all of the different models made today.  Once set up, a table top exhibit may appear as large as a floor display or small enough fit on a counter to serve as collateral marketing for product displays.  They are extremely versatile, functional and easy to use.  For example, they can be used by a sales force for on-location marketing presentations to prospects, as an exhibit booth or any number of other uses when a small, three dimensional display is needed. .