About The Pantone Matching System
Follow our instructions and you will save time, money and effort.
Ever wonder how manufacturers guarantee that their products always print the same color and avoid the disaster of having their logo being different shades of a color through multiple prints? The answer is the Pantone Matching System (PMS). The PMS system has been a life saver for printing trade show displays & exhibits.
One of the unfortunate truths about the age we live in is even with all of our advanced computer technology the colors on individual monitors can still vary greatly depending on the systems they're running on and their own settings. For this reason you can never be completely sure of how a particular color will look when judging it from a computer screen alone.  That's one of the reasons we recommend hard copy proofs for printed jobs.  We also recommend the use of PMS colors in communicating color across a spectrum of exhibit booth products.  Let's say that you are getting a banner stand, a pop up display and a table cover printed.  Your logo may use a blue called PMS 286C.  All of those products will use a different machine to do the job, so notify your supplier(s) that it's critical to get close to 286C.  Your supplier will then take that information and use it to get consistent results on all three products.
This system of color matching was developed by Pantone Inc. Then part-time employee Lawrence Herbert found a way to simplify the company's pigments thanks to his knowledge of chemistry. What came out of this simplifying process was a set of pigments that have been in use in the printing industry ever since.
One of the major aspects that has been a driving force behind the Pantone System is the fact that there are colors within the Pantone spectrum that are not able to be reproduced by using the CMYK (Cyan, Magenta, Yellow, Black)  print method. While the CMYK print method uses 4 different inks in its printing the Pantone System utilizes 13 pigments (15 including black and white) allowing it to perfectly replicated 1,114 spot colors. This allows PMS colors to have both a wide spectrum of colors that can be created as well as exacting color matches for every print job.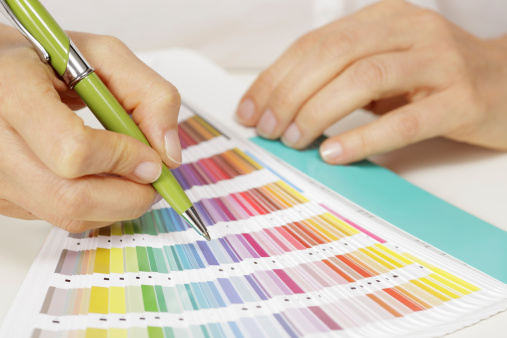 To be certain of the PMS color that you want to print with it is recommended to use a Pantone Color Guide. These guides list all of the Pantone colors available and as an added benefit show how the given color will look on different types of material (Coated, Uncoated, and Matte).
Never use an online guide to judge Pantone colors.  Always use the guide.  You can find them at your local sign shop, library or printer.
To help the sorting process of the Pantone color they are typically identified by their allocated number PMS 180C, for example, is a specific red within the Pantone system that's intended for printing on a coated material.
The Pantone System has become so widely accepted that within the last decade its use has expanded beyond branding and even moved into government and legislative use. The state of Texas, for example, has set legislative PMS colors for all of its flags to guarantee that the red and blue match perfectly for every official printing.
When designing artwork from scratch you can help the process by designing with PMS colors from the start. How can you be sure to do this? You may not have realized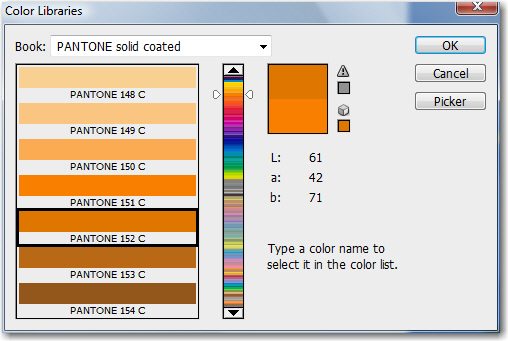 this,  but if you're designing artwork you're likely already using software that has access to these colors. Most modern design software and creative applications come preinstalled with all the available Pantone libraries ready to go; Adobe Photoshop, Adobe Illustrator and Adobe InDesign to name a few. By utilizing these libraries paired with a physical color guide you can be certain of the accuracy of your print job and remove the worry that the logo you've spent countless hours designing will print with different shades through multiple jobs.  Not only that, you should communicate with your printer regarding PMS colors.  When there are critical colors that need to match closely, let them know.  Don't forget to order a hard copy proof.
Always remember to order a hard copy proof to judge color, but don't count on your printer to always exactly match a Pantone color 100%.  Most printers will get very close and may charge an extra fee to get closer.
We use the Pantone Matching system on many products including the following:  Banner Stands | Exhibit Booths | Directors Chairs | Retractable Banner Stands