Embrace Push-Fit Tension Fabric Displays.
Embrace Tension Fabric Displays
The Embrace Push-Fit Tension Fabric Displays are sleek, collapsible, portable display that delivers style with minimum effort!
The push-fit graphic hugs the frame making this display sleek and seamless! Create a modern display simply by popping up the frame, attaching the channel bars and pushing the graphic beading into the channel. These displays come in a variety of sizes and can be configured with or without end caps. Assembly is tool-free making set up and tear down an easy process! The simple push-fit graphic attachment gives the Embrace the crisp. straight edges that make it so stylish.
Push Fit Graphics are attached with silicone edged beading that is sewn into the fabric and pushed into the frame!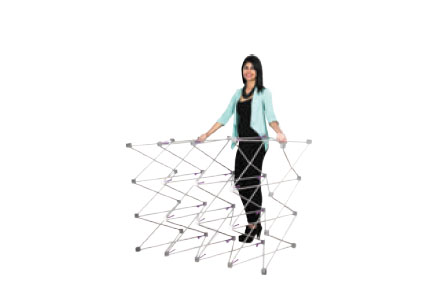 Stretch out the collapsible frame
Snap locking arms into place
Push bead edging on graphing into channels
EMBRACE BACKLIT TENSION FABRIC DISPLAYS
Create a 20′ or 30′ inline display in a matter of minutes!
Embrace Fabric Backwalls can be easily connected using a simple clamp system to create 20′ and 30′ inline displays. The seamless, crisp lines make the graphics appear to be one large graphic when side by side. Choose from single sided or double sided graphics and front graphics only or full fitted graphics with end caps.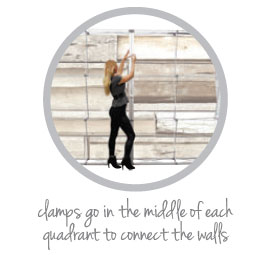 Tall backwalls made easy!
Stack the Embrace Fabric Backwalls on top on one another to create a nearly 15′ backwall! The high backwalls are perfect for use in tradeshows, retail environments, events and more! The special clamp system and stabilizing feet make stacking and building high easy. These kits include your choice of backwall width and your choice of either singe or double sided graphics.