Display Products for Churches
A Great Display is Worth a Thousand Words
Imagine a pair of displays at a church community event, side by side.
The first has tables at normal height, too low for most people standing. Distractions from patterned tablecloths someone thought eye-catching, boxes under the tables and, with no space division, the booth behind them prevent real contact. A monitor on a low table is impossible to see between the height and angle. Fliers and brochures cover too many events and groups.
The second has tables raised for comfortable browsing of the fliers and brochures available. The tables are neat, covered with table skirts and tablecloths, perhaps printed with the church's logo and a simple message.
A multimedia presentation is playing on a sturdy and attractive monitor stand, making it easy to pick out while walking by and drawing people in to see what's going on. Neighboring booths offer few distractions because of drapes and banners set up on stands, making this a small haven in a storm of advertising. An excellent display shows a certain amount of stability and permanence, ensuring interested attendees that our church will stand the test of time.
Now let's think about these booths. How will we find what we need in this area? How will the people working that booth find what they need in a timely manner so that they can deal with all the people coming through? What will make people stop and pay attention to what's happening there? Read on!
Vertical Integration
Shows give us limited floor space, in order to maximize the number of exhibitors they can fit into an area. Working part of your display into a vertical format catches the eye and draws people over because they can't see our neighbor's materials laid out flat on a table. Having pipe and drape division between booths creates the feeling of a separate space.

Pipe and Drape adds color, appeal, and you can add your message! Use pipe and drape on stage or to divide up an space.
While we're at it, let's talk about multimedia. A good multimedia presentation draws in the crowds as the eye is naturally attracted to motion at eye level. Instead of a tabletop monitor, why don't we bring it to eye level with an adjustable-height monitor stand? Then everyone can see it from outside the booth.
Banner stands, either freestanding or as part of a monitor stand helps garner attention and continues to unify the booth, making it more professional. At expos, conventions and community events, modern churches need to be able to compete for attention in a professional manner to get the message out! Updating items in our display helps us do that.
Simplify and Raise the Message
When we're trying to pass along a message, we want people to hear what we have to say, not be distracted! Table skirts, either plain or custom printed, provide a unified and neat appearance to our booth. We have a selection of throw covers and spandex table covers that will enhance your booth's appearance, giving you a better appeal to the masses.
This exhibit booth is a great example of all of the things you can add to create a space and deliver your very important messages to your community!
Table skirting, a lovely graphic display, a monitor stand, a counter for materials, and comfortable seating!
If we have small items such as fliers to give away, try to raise the height of our tables to around 39″. This brings them closer to the viewer's level, even if they're in a wheelchair or scooter. We can use bed risers or cut 1-1/4″ PVC to fit over table legs to give additional height to our display.
Bringing it Home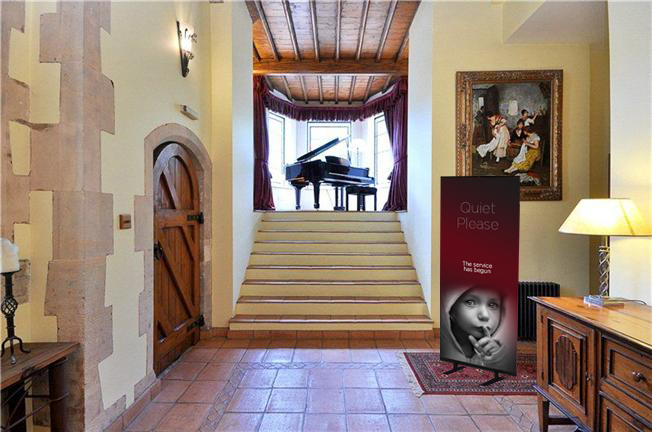 Of course, we don't have to limit these techniques to events; we can put them to use in our church home! A display set up in the entryway using these items creates a small welcome and information area for visitors so that they don't get lost in the Sunday morning shuffle, and the monitor stand would be great in the nursery for mothers!