Onyx 20′ x 20′ Kit Orbital Truss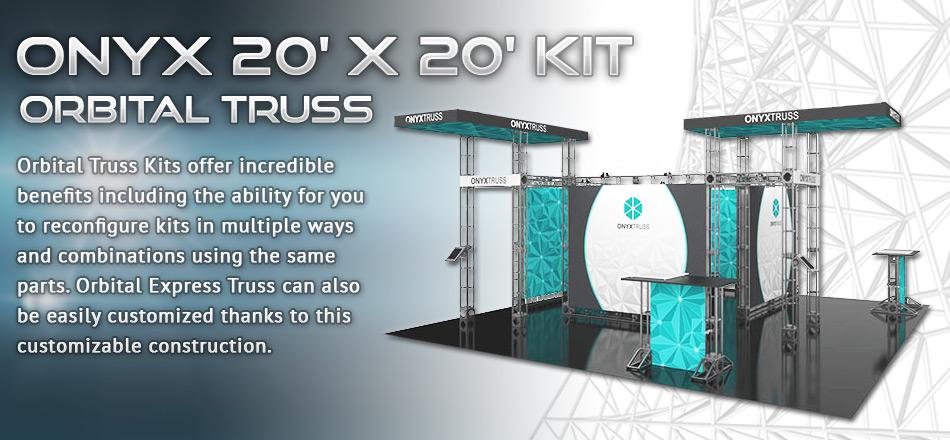 Everything You Need
This Onyx Kit is one of a wide range of "off the shelf" kits configured for a variety of booth sizes and configurations. Professionally manufactured in the U.S.A., Orbital Express Expo Truss will give your next tradeshow the amazing look of a full custom designed exhibit, but at a fraction of the cost.
Value For Your Money
This kit comes complete with all the parts, fixtures and fittings that you need to build your successful exhibit. With Orbital Express Expo Truss, you get much more than just the structure, you get a complete kit ready for the show!
Where indicated, this kit also come with stylish, 50 watt, low voltage spot lights and adjustable tabletops in two choices of style and finish (textured silver or beech wood). The entire exhibit comes neatly packaged in re-usable, heavy-duty plastic molded freight cases, so that you can get the most out of your system, time after time.
Versatile construction
The extensive line of Orbital Express Truss™ exhibits is a collection of reconfigurable displays that feature a fixed number of parts and connectors. The reconfigurable aspect of Orbital Express Truss allows for 20′ x 20′ and 10′ x 20′ inline kits to easily transition into smaller size exhibits, maximizing value and functionality. In this guide, you will see the many Orbital Express Truss kits that reconfigure into other designs and sizes. Learn how you can easily maximize the value of your display!



Orbital Truss Accessories