Trade Show Graphic Design Services
GRAPHIC DESIGN WORK SAMPLES

Trade Show Graphic Design Services
We specialize in turning ideas into reality!
We offer years of experience in creating terrific graphics for our clients since 1999. You only have a short time (sometimes a few seconds) to attract the attention of a buyer. Make sure your graphics are designed to pull people into your trade show booth, attract attention, sell a product or a service, excite, create an emotion or give information.
Whatever the goal with your graphics is, Camelback Displays can help set you apart. Our talented consultants will guide you through the design process to ensure an effective design, then our talented artists will put it all together.
• Create Demand & Appeal
• Evoke Emotion
• Inspire Trust
• Lure In Attendees at the big show
• Grab Customers
• Build Interest
• Rebrand
We will deliver quality work, within your budget, on time and exactly how you want it. We include you every step of the way with planning, proofing and implementation. We are skilled at getting it right the first time and we take each project as a goal to do a perfect job. Begin by clicking on a category to view packages and give us a call, send us an email. We are here to help with your project and welcome any questions you might have.
Camelback Displays design services puts your company in the driver's seat.
We can help with all of your design needs such as trade show graphics design, logo design and brochure design. We've helped countless customers over the years with their graphic needs and we are here to help you too.
Have no idea what you need but you know you need new graphics?
We have a lot of ideas! Our team can put together several different designs for you from scratch!
Know exactly what you need and want us to execute it for you?
Great! We can help with that! Not only will that save time and money, but we will make your idea look perfect!
Need something small done?
No problem! We can whip it out, quickly and accurately!
Need something complex completed with all the "T's" crossed and the "I's" dotted?
We love a challenge and we are used to getting it right the first time!
Have an image that needs to be "Photoshopped?"
That is easy for us! We do it all the time. Whether it's some annoying object that needs to be removed or even multiple images combined together, we can help!
Just want a logo recreated in Vector format?
We will recreate any logo, organizational seal or anything else for you accurately and quickly! Afterwards, we will store your art in Vector format (Adobe Illustrator) or send you the files for future use.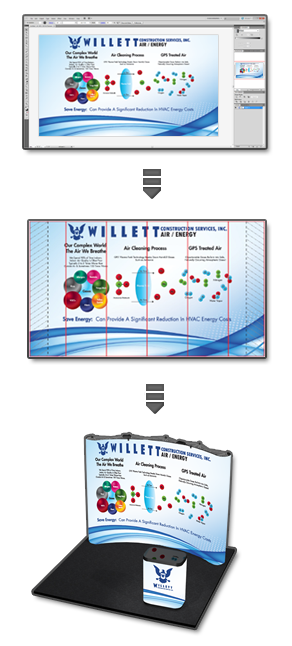 Let Camelback's Design Department bring it all together for your next trade show marketing presentation with stunning designs produced by seasoned graphic professionals. As you may know, there is more to designing effective graphics than choosing a font and a color for a background… We Can Help!
It's All About You! Your Ideas… Your Marketing Message… Your Image… Your Audience… Your Products & Services… Your Colors… All are elements that may play a part individually or together when composing a highly effective design solution.
Our creative process keeps you in the loop with consultations, electronic proofs, hard copy proofs and anything else we can do to make sure you have a great design at an affordable price that is exactly the way you wanted.
We start with an idea…or two..or three.
The ideas may be yours, ours or a collaborative effort.
We may study your website and get to know your company.
You may already know what you want and just need someone to execute your design for you.
We execute the ideas in a rough layout for you to choose.
We may have several options for you to choose from because our designers love this stuff!
There may be several competing design themes that we explore, depending on the project.
Revisions?
We understand that an idea may work from the first draft, but realistically,
there are always changes to make. Revisions or changes are never a problem for us,
we love to get it right!
Finally, we set up the artwork in a way that can be used to produce the final display.
The image is sized correctly. Any critical colors are identified and communicated to the printer.
Future projects?
We save everything and back it up. Barring a disaster outside of our control, we will keep your graphics for years to come for any future need you may have.
How to begin?
You can either give us a call or fill out the form on this page. One of our representatives will then start the process. It's as easy as that!