REALITY
FROM CONCEPT TO...
Xenith came to us in need of a beautiful awe inspiring trade show exhibit that would attract their customers, show off their amazing products, showcase their brand image, and stand out amongst the crowd all while maintaining portability allowing for transportation from show to show.
Versatility was also a key factor, Xenith needed the ability to easily change the banners and graphics when a new product was released, also allowing for the display be capable of a quick and easy style change. The display was to be an island format and needed to look great from any angle keeping it  attractive from anywhere on the trade show floor.
Most importantly the exhibit needed to designed around the display of their products, football helmets, shoulder pad, and more all had to be in the lime light. It needed to be entirely self supported and easy to use, allowing them to set up quickly and take down fast.
Modular capabilities. The display needed to be able to look great and function on it's own if ever needed for a 10′ x 10′ exhibit space but also needed to connect seamlessly and look even better when the exhibit space reached 10′ x 30′. A previously designed 15′ backlit counterpart we designed had to fit in with the exhibit.
Athletes take their sport seriously, when choosing their equipment safety is not the only factor in mind. Style, movability, and function are all crucial factors.
This told us that our display needed to look great, appear stylish, and function perfectly with the products. The exhibit, the products, and the brand absolutely had to look like they belonged together. We knew we would have to use a creative layout, special lighting effects, and careful placement to bring this exhibit to perfection.
After a brief consultation call with the customer, the overall vision, budget and in hand date we began with a simple hand sketch.  We compared notes and slight modifications were made.  We moved along with line drawings, corrections and adjustments. All final decisions regarding laminate colors, utilizing real or laminate brushed aluminum, lighting, exact measurements and graphic were designed and the final drawing was approved.  In order to ensure precise measurements and placement we requested a sample helmet. Each shelving unit held four helmets with eight adjustable lights per tower. The top banner, used for their tag line, can easily be changed out for future events if needed. The lighting and plex enclosures are able to show both the safety features and the graphic design on each helmet.
Research was completed and Xeniths booth development was in motion. We developed a beautifully back-lit tower which held an empowering and large header display showcasing the brand. Along the tower high resolution graphics of popular products and equipment was displayed with graphic back splashes.
Stylish mannequins were sourced to display the products in use alongside product display towers on all four corners of the exhibit. Special effects lighting were used throughout the exhibit to really make their products the star of the trade show.
Lastly a 15 foot wall was specially designed to hold products in display cases on each end with special lighting on each shelf. The zenith logo was laser cut out of high quality aluminum to be displayed in the middle of the case along with their iconic "X" to fill the space between. Then the case was illuminated with dozens of LED lights to showcase the brand like never before.
After design and construction the exhibit arrived to Xenith with detailed set up instructions in a custom jigged crate for easy storage and safe shipping; to be used over and over again. Xenith was thrilled to say the least, and we look forward to our next project with them!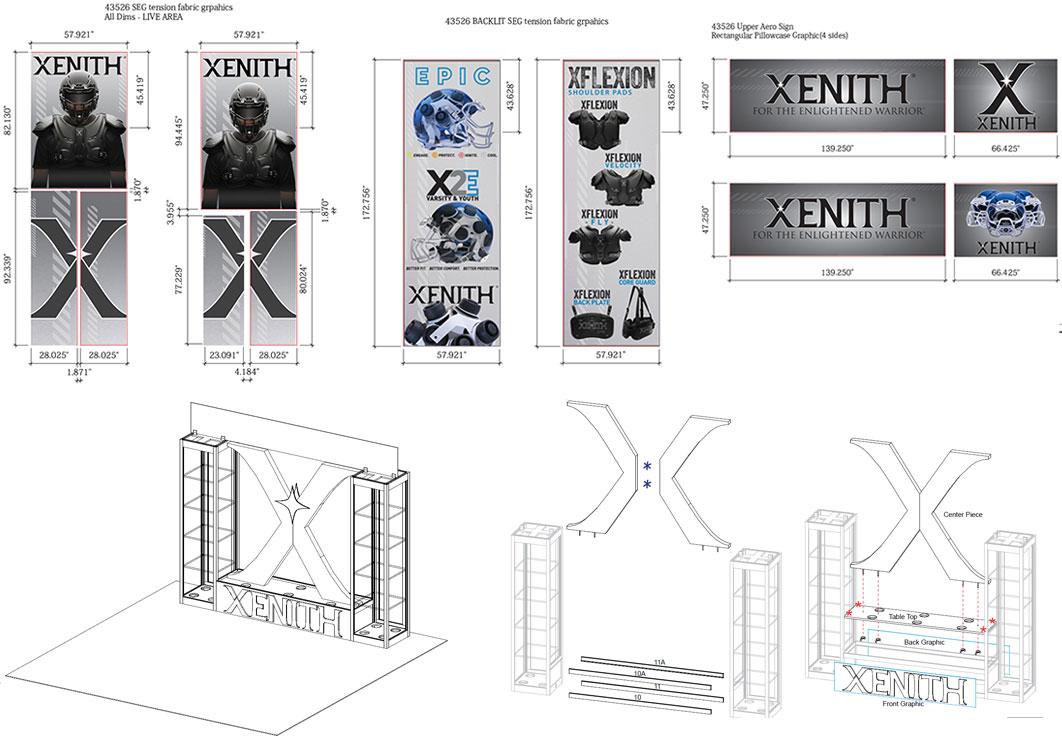 Xenith's trade show results included an increase in crowd interest, customers, and potential leads. This booth was designed to last years to come and to be easily modified for future marketing and promotional campaigns. Ultimately allowing one trade show exhibit to endure and last through years of Xenith's promotional endeavors. This design not only showcased their brand and products but allowed for their potential customers to become acquainted with their latest products in a fun and interactive way.
THIS EXHIBIT HELPED XENITH WITH…