The creators of the original Xpressions® have packaged, in complete kit form, our most popular Xpressions SNAP!™ displays. We call this collection XpressionsSNAP! SELECT™. These designs are proven winners right out of the box!
Easy to set-up and easy to use, Xpressions Snap is the ultimate in-frame graphic technology! The display is shipped with the fabric skins fully attached to the frame. The versatility allows you to change graphics easily in the field.

The portable, lightweight frame makes your display set-up a SNAP!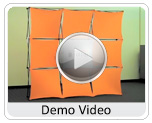 Simply grasp evenly with both hands the right and left side of the center quad within the frame, then gently lift upward.
Strong magnetic connectors "SNAP" lock the frame automatically within seconds!
Larger frames can be slowly spread open on the floor until the connectors "SNAP". The display is so lightweight it can then be lifted to the upright position. Breakdown is even easier. Simply grasp the frame firmly and apply pressure downward. If your display is outfitted with yellow Auto-Locks, simply disconnect and offset before breakdown.
| | |
| --- | --- |
| Important documents in PDF format: | |